Sporting & Academic Achievements
Year 5 Book Awards
Mary Rose Science Challenge
St Jude's Girls Football Team March 2018
Jude's Football Team March 2018
St Jude's Football Team December 2017
Pompey Stars #pitc #premierleague #premierstars
Beavers Award
PGS Football Champions 2017
Summer Fayre Poster Winners - Skye & Tamima
Erin Celebrates Gold Success!
Portsmouth Schools Football Association Under 10 League 6-a-side Division 2 Champions
Portsmouth vs Yeovil Pitch Side Presentation
Our lads won the Portsmouth Tournament and went on to represent
Portsmouth Football Club in the Annual National Kids Cup.
Our boys went on to be narrowly defeated in the final by Wycombe Wanderers
April 2017 - U11 Girls Football League
Well Done Erin! Silver Award in Ice Skating!
PITC Football Stars Daniel & Toby!
Jasper the Journalist!
Jasper shared his experience at the Gullfoss waterfall in Iceland with the National Geographic Kids magazine and was thrilled to have his article published.
Well done to our roving reporter Jasper!
Perhaps a future in journalism awaits you?
St Jude's Football Team March 2017
Our lads won the league, unbeaten in 14 games!
Our Red Nose Day Supporters 24th March 2017
Year 6 Footballers receive their medals
Year 6 Football Team March 2017
Our incredible Year 6 Team represented Portsmouth Football Club at the Kinder Kids Cup event in High Wycombe. Winning the previous tournament, they played in a national event against other League 2 sides, as per Portsmouth Football Club. They were runners in their group which meant they qualified to play the semi final against local team Wycombe Wanderers. In tough, slippery conditions at Adams Park, the home of Wycombe Wanderers FC, the lads were unfortunate to lose 2-0 which meant they were only 10 minutes from Wembley! Well done to all, an incredible achievement by all!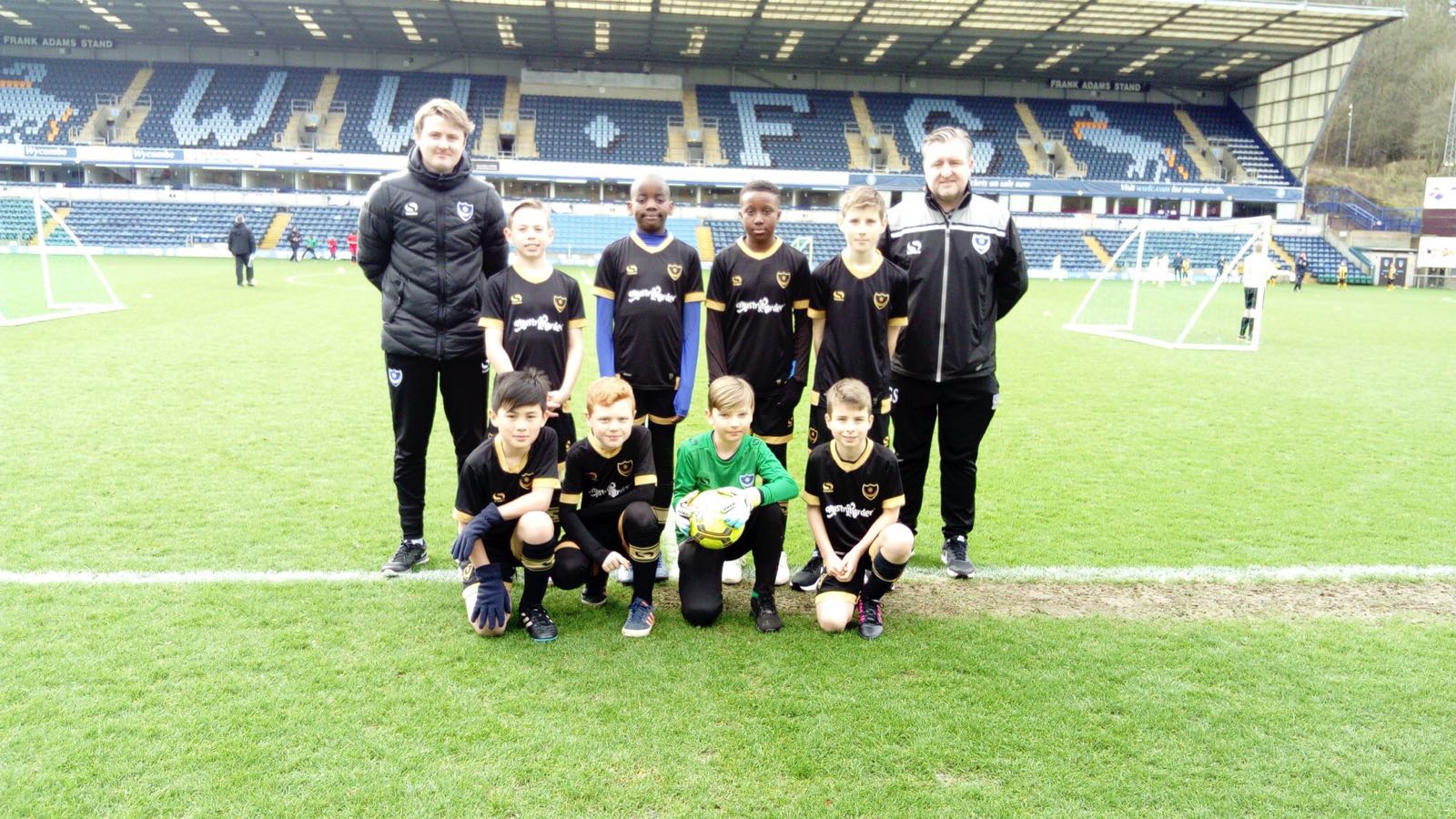 Year 5 Football Team March 2017
Our Year 5 team were unbeaten in the group stage of the Springfield Cup, comfortably winning the group. They then played Court Lane in the semi final and unfortunately were defeated. Court Lane went on to win the cup. We hope to go one better in the forthcoming league events at Goals where we will be defending our League Champions trophy from season 2015/2016.
Girls Football Team March 2017
Our fabulous Girl Football team were in action in the Portsmouth Cup and it was always gong to be tough to retain our cup win of last season. They finished 6th in a very tough and competitive group comprising 11 teams from across the City. The girls really enjoyed the event. Also they are in league action throughout March.
Portsmouth Literature Quiz Runners Up
Hampshire Cup Winners
Girls Football Team February 2017
Football Champions January 2017
Maths Challenge Winners January 2017
Headteacher Awards awarded to our Hockey Team - 9th December 2016
Our Year 6 boys added the Portsmouth Schools League Championship (for the 3rd year running) to the Portsmouth Cup won earlier this term. To win both is a fantastic achievement but even more so when you consider they remained unbeaten in both. The League was won with the team winning every one of their 12 matches.
Sportsmanship and behaviour was also first class as usual.
Tayla celebrated success in her Streetdance Competition, gaining first place in her solo, trio and team event. Well done Tayla!
Several of our youngsters took their Grade 1 Ballet exam and all successfully passed.
Our Year 5 Team won every game during the PGS Tournament in June and won the Year 5 Trophy. Our Year 6 Team came runners up, losing the final to the all conquering Lyndhurst team.
A great achievement again for our little school as winners and runners up to much larger schools.
Hockey Team June 2016
Girls Portsmouth Schools Cup
Our new girls team took part in the Portsmouth Schools Cup this week. They started with a defeat to the pre-tournament favourites but then managed to win 6 and drew 2 entitling them to qualify for the semi-finals.
An exciting game v Court Lane ended in a 2-0 win which drew us against Flying Bull in the final. Having previously drawn with them in the group matches we knew it would be a close game.
After extra time the score remained 1-1 so a penalty shoot out was necessary. All 6 girls took a penalty and as it entered sudden death the opposing team goalkeeper missed her penalty and it fell to our keeper, who calmly scored to win the Cup. Behaviour was exemplary throughout the day and the win was even more impressive, this being their debut season as a Team.
Hampshire Cup (Boys)
Our Year 6 boys team followed the girls success in their Hampshire Cup tie away to Purbrook Juniors. They won 5-4 in a cracking match that saw the lead change many times. Goals from Rio (3) and Tom (2) were enough to see us through to the next round.
Hampshire Cup (Girls)
Our fantastic Girls Football Team are through to the next round of the Hampshire Cup after a narrow 1-0 win over Warren Park. Olivia scored the winner.
Faith in Football - Report 3rd July 2015
St Jude's Football Team competed at the Portsmouth Schools Football Association League and finished as joint champions with Corpus Christi in Division 2, the highest official league for 1 and 2 form entry schools.
We impressed the organisers so much that they invited us to play in Division 1 for the 3 and 4 form entry schools. We were guests so couldn't win it but we held our own and won against many of the teams.
At the PGS Tournament our Netball Team did well and narrowly missed out on qualifying by 2 goal difference. Year 6 just missed out but our Year 5 were unbeaten in 7 games and only lost the Final on penalties. They have runners up medals which is a fantastic achievement considering it was their first game together as a Year 5 Team.
All showed great sportsmanship and represented the school magnificently
No less than 7 of our current Year 5 footballers have been asked to attend a trial for Portsmouth Schools FA's Representative side who will play in the Berkshire and Surrey Leagues from September. They will, if selected, represent our City against players from across the region from London to Bristol and as far north as oxford.
Trials for the Year 5 team next season will take place on Tuesday 7th July from 3:30–4:30pm.
The end of year Football Challenge match between Year 5 and Year 6 will take place at school on Thursday 16th July at 3:30pm.
Mr Harris